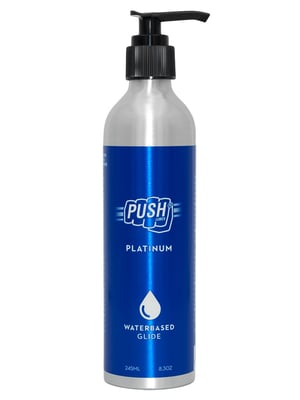 Content: 245 ml (8.3oz)
Price per 1 litre: 60,81 EUR

Premium waterbased lubricant in stable 245ml metal bottle with single-hand pump dispenser!

The Platinum Waterbased Glide is transparent, odourless and free of perfume additives. Therefore, it is very skin-friendly and suitable for all parts of the body. Anal, vaginal, penis, clitoris, sextoys - no problem.

The lube lubricates very well and long. However, if you need more, you can take it with one hand. The environment remains clean and your loveplay continues undisturbed.

Water-based lubricant can be easily and quickly removed and is suitable for all sextoy materials. Whether made of rubber, TPR, latex or silicone - your sex toy is not affected by this lubricant.
Push Lubes - Platinum Waterbased Glide 245 ml
by Push Lubes
Where to buy: