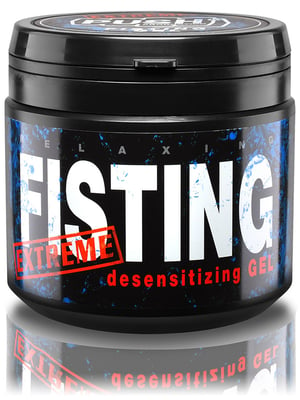 Content: 500 ml
Price per 1 litre: 49,80 EUR

Fisting Extreme Anal Relax Gel - Desensitizing was developed for maximum relaxation of the sphincters, extreme desensitization and optimal sliding properties in the anal area.

Features:
As a water-based lubricant it is compatible for the simultaneous use of condoms made of latex, polyurethane and AT-10 as well as toys and sex accessories made of silicone, PVC, rubber, high-tech materials such as TPE/TPR, glass, acrylic glass, ABS plastic, stainless metals, paint, leather and much more. Leaves a pleasant feeling on the skin. Can be easily washed off with water if necessary.
Fisting Extreme Anal Relax Gel - Desensitizing - 500 ml
by Push Lubes
Where to buy: