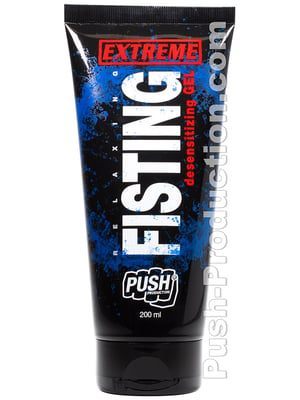 Content: 200 ml
Price per litre: 74,50 EUR

Push Production's Fisting Extreme Anal Relax Gel - Desensitizing is finally available in a more pocket size and a practical tube to satisfy all your sessions and enable great anal relaxation. 

This light desensitizing lube was developed for maximum relaxation of the sphincters and optimal sliding properties. The practical tube is very easy to use, even with one hand. Apply as much gel as you want on the anal area. Store in a cool dry place.

The Fisting gel is the same formula as the best-selling pot of lube. Its water-based formula is perfect for all types of sex-toys and condoms as well as more extreme toys, xxl dildos and fists. Its thick and fluid texture allows for easy pour and pleasantly fresh sensation.

Product details:
As a water-based lubricant it is compatible for the simultaneous use of condoms made of latex, polyurethane and AT-10 as well as toys and sex accessories made of silicone, PVC, rubber, high-tech materials such as TPE/TPR, glass, acrylic glass, ABS plastic, stainless metals, paint, leather and much more. Leaves a pleasant feeling on the skin. Can be easily washed off with water if necessary.
Fisting Extreme Anal Relax Gel - Desensitizing - 200 ml Tube
by Push Lubes
Where to buy: