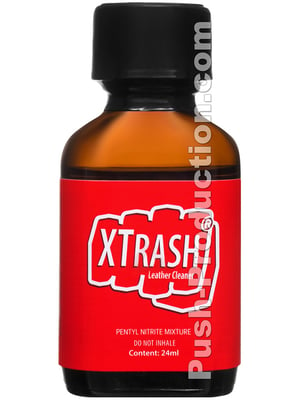 Content: 24 ml
Pentyl Nitrite - CAS 463-04-7
Isopentanol - CAS 123-51-3
Welcome the XTRASH poppers back with its super strong formula that made quite a name for itself and in spite of how it's called: it's strong, it's pleasant, you'll love it!
The aroma intensifies your sensations in bed or during masturbation, making your orgasms even more explosive! When you're excited and ready for action, you can open the bottle of poppers and let its erotic scent fill the room and get even more aroused!
Made with super strong Pentyl nitrite, this poppers will let you take on bigger toys and your partner's piece or fist without even flinching: its effects heighten your sexual experiences and make you ready for anything, so try it today!
Find XTRASH and all the best poppers in our online shop with quick dispatch and discreet delivery all over Europe!
Product details:
✓ Extra strong poppers
✓ The Original formula
✓ Made with super strong pentyl nitrite
✓ Pleasant aroma
✓ Instant arousal
✓ For better orgasms and unbridled sessions