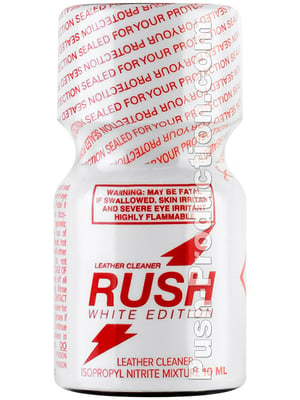 Content: 10 ml
Isopropyl Nitrite - CAS 541-42-4
Isopropanol - CAS 67-63-0

With its brand new innovative formula promising strong and long-lasting effects to boost your libido, we present Rush White Edition from the original manufacturer of Rush PWD.

In the 10 ml version of Rush White Edition, you'll have one of the most powerful isopropyl nitrites on the market to help you get off. This small bottle also contains a Power Pellet, a small ball that acts as molecular sieve and absorbs moisture from the air to keep your poppers as fresh as the first day. To keep it fresh longer, don't forget to put your poppers in the fridge when you're not using them.

Poppers are chemical aromas that dilates the blood vessels to give effects and improve sensations during sex, especially during anal play, making it less painful and more enjoyable. Try the brand-new Rush White Edition poppers today to have a great time in bed!