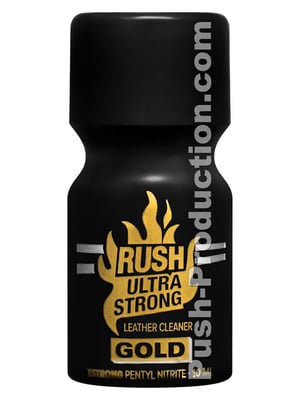 Content: 10 ml
Pentyl Nitrite - CAS 463-04-7
Pentanol - CAS 71-41-0
Try the new version of the small poppers Rush Ultra Strong in the Gold Label, a premium formula made with the freshest, most potent chemicals for some incredible sensations! This long-lasting poppers is made with super strong pentyl nitrite and 1-pentanol, a mix that is sure to bring you on your knees and make you beg for more!
Whether you're popperbating solo or getting freaky with your partner, poppers are famous for making you more excited, suppressing your inhibitions and enhancing your sensations so they're particularly popular in the bedroom! Enjoy taboo-free sessions and push yourself towards sexual nirvana with the Rush Ultra Strong Gold Label.
The makers of the Rush Poppers keep on creating best-selling formulas and aromas that will push you and your partner towards new sexual thrills, experiences and powerful climaxes. When you're in the mood, open the bottle and let its erotic scent fill the room for your to instantly want to tear your clothes off and get down to business.
Enjoy this pocket 10 ml of our popular Rush Ultra Strong and the brand-new Gold Label formula for some really, really hot moments in bed or in front of your favorite porn!
Product details:
✓ A must-have for poppers lovers
✓ Premium gold version of the best-selling poppers
✓ Strong Pentyl formula
✓ Practical small bottle for your pocket
✓ Ideal for poppers beginners and experts alike
✓ Security cap that prevents leaks
✓ Brand-new and fresh bottle
✓ Incredible sensations