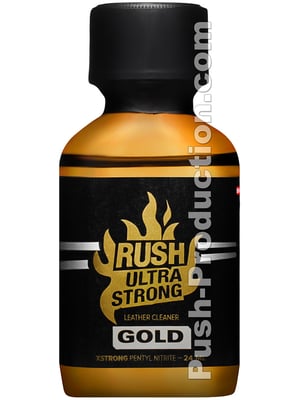 Content: 24 ml
Pentyl Nitrite - CAS 463-04-7
Pentanol - CAS 71-41-0
Rush Ultra Strong, our best-selling classic poppers, is back with an incredible new Gold formula for stronger and longer-lasting effects! Made with super potent pentyl nitrite, Rush Ultra Strong Gold will let you turn every session into hot and sexy adventures in bed!
Whether solo for popperbate or with your partner for an evening of inhibition-free romance, just settle down, open the bottle of Rush Ultra Strong Gold and let its erotic scent push you and your partner towards thrilling sexual emotions. Its explosive strength will make you reach the most powerful climaxes ever.
Coming from the makers of the Rush poppers, its incredible Pentyl nitrite is one of the purest and strongest on the market. With its security cap, there's no more risks of leaking or evaporating when you don't use it.
The small neck makes it compatible with all small Booster caps like the Galaxy for stronger sensations!
Product details:
✓ A must-have for poppers lovers
✓ Premium gold version of the best-selling poppers
✓ Strong Pentyl formula
✓ Practical large oval bottle
✓ Ideal for poppers beginners and experts alike
✓ Security cap that prevents leaks
✓ Brand-new and fresh bottle
✓ Incredible sensations