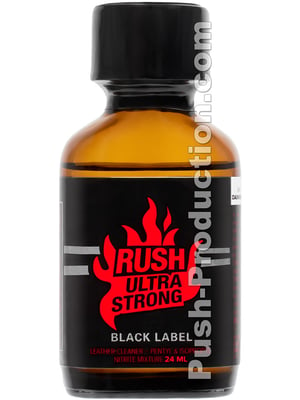 Content: 24 ml
Isopropyl Nitrite - CAS 541-42-4
Isopentyl Nitrite - CAS 110-46-3

Rush Ultra Strong - Black Label is ultra x ultra strong, therefore it's ultrastrong², thus nothing for beginners! It combines two of the strongest formulas in one ultimate aroma, that unfolds its incomprehensible effect especially fast and lasts extremely long.

With the new safety cap, your bottle remains airtight and leak-proof during transport and storage. In addition, the manufacturers rely on a Power Pack Pellet. This ball reliably prevents possible contamination of the aroma by the entering oxygen after opening. This way your big Rush Ultra Strong - Black Label Poppers stays fresh, clean and ultra strong even longer.

Thanks to all these measures you can ration Rush Ultra Strong - Black Label with consistently high quality over a longer period of time.