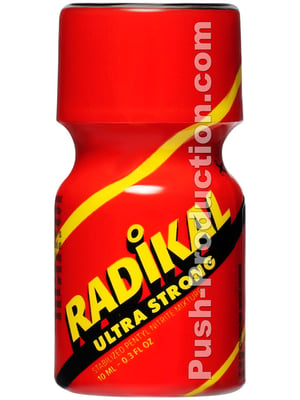 Content: 10 ml
Pentyl Nitrite - CAS 463-04-7
Pentanol - 71-41-0
Radikal Ultra Strong is a brand-new poppers bottle made with - as its name suggests - ultra strong pentyl nitrite that has been stabilized for longer-lasting effects and arousal! When you're in the mood, a whiff of this aroma will instantly turn you into a sex-craved gooner in need of your poppers session.
Whether solo or with a partner, open the bottle and let its erotic aroma fill the room and spread the exciting scent. When it reaches you, you should not lose a second and start stroking as its strong pentyl formula will act quickly and make you all aroused and ready for an explosive climax!
Pentyl nitrite is one of the strongest formulas available on the European market, made with high-grade ingredients that have been stabilized for better and longer effects! Unlike some competitors who make their own bathtub formulas and stick their own labels, ours are chemically ultra-pure and made with the highest quality ingredients, we don't sell any duds in Poppers-Shop!
Get ready for maximum relaxation with the new Radikal Ultra Strong poppers, a name already famous in the scene for its super strength and satisfied customers!
Product details:
✓ All-new and fresh bottle
✓ One of our strongest poppers
✓ Practical pocket format
✓ 10 ml of pure bliss
✓ Stabilized pentyl nitrite mixture
✓ Exciting and satisfying effects
✓ Practical secure cap
✓ Reduces leaks and evaporation