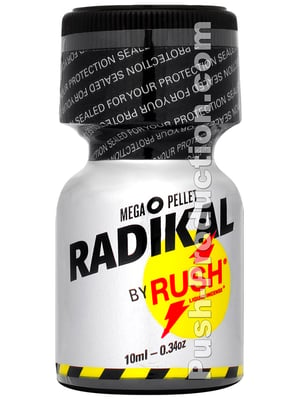 Content: 10 ml
Isopentyl Nitrite - CAS 110-46-3

Radikal Rush is simply the best poppers you'll ever have, in a practical and discreet vial for your trips to the sauna or to the club. The large 30ml aluminium bottle is so well-liked but less discreet that after popular demand we had to create a small bottle to satisfy your desires.

The recipe combines the most intense chemical elements to give you the best sensations with isopentyl nitrite, as pure as possible!

Radikal by Rush is one of our best sellers and for good reason: its effects last longer than others thanks to the presence of the Mega Pellet inside which absorbs ambient humidity and keeps your poppers fresh inside. By stirring it vigorously before use, you activate the radicals and will enjoy much more intense and stimulating effects!

The new safety cap is completely waterproof and prevents air and liquid from evaporating so that your poppers stay as fresh as on the first day and do not leak into the package! No more leaking poppers, trust our Poppers-Shop, exclusive seller of Radikal Rush and low-priced poppers!