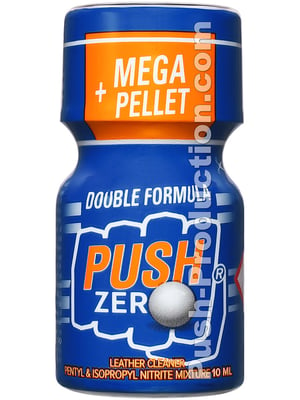 Content: 10 ml
Isopropyl Nitrite - CAS 541-42-4
Pentyl Nitrite - CAS 463-04-7

Push Zero poppers is an incredible double formula with Mega Pellet.

The brand-new Push Zero makes you ready, excited and relaxed for some intense action! Not only does it relax your muscles, it also gets you immediately more excited so you will want to be filled by big toys or your friend. With a relaxed hole, everything fits!

Thanks to the Mega Pellet inside, absorbing the water molecules and prevents your poppers from getting diluted, you can store your poppers longer, keeping it fresh and strong! The incredible mix of smooth pentyl and potent isopropyl brings a special balance in this formula for incredibly long-lasting sensations and enhanced orgasms, particularly if you're playing with yourself during your popperbate session!

Try the power of Push Zero, a pure poppers with great effects!