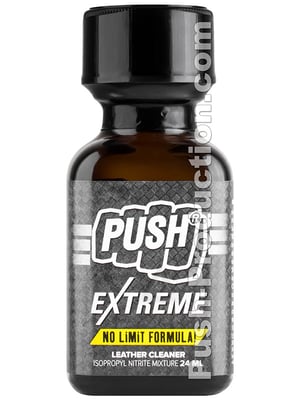 Content: 24 ml
Isopropyl Nitrite - CAS 541-42-4
Isopropanol - CAS 67-63-0

Discover one of our strongest poppers specially made for the Push Extreme Toys Collection and their great designs and sizes that might sometimes require a lot of training in stretching. That's where the poppers Push Extreme comes in handy: thanks to the incredible relaxing effect, your smooth muscles will be ready to take on the bigger sizes of our incredible dildos like Tusk, Wrinkle or Slinger.

Push Production created a fantastic mixture with isopropanol and isopropyl nitrite, being the strongest chemical available on the market! The Extreme Collection also features the amazing Fists like Punch and Slapper toys for all your fist-fucking needs. The Push Extreme Poppers helps bottoms turn into cock-craving sex machines for the best naughty sessions of your life. Prepare with some Push Relax Spray or desensitizing Fisting Gel and you're ready for deep, extreme action. The poppers allow maximum excitement and stretching capabilities while lessening pain during bottom sex.

Open up the bottle, let some of its aroma evaporate in your bedroom or sex dungeon and you're good to go! Push Extreme has a unique No Limit formula to create the best anal experiences - order yours today!