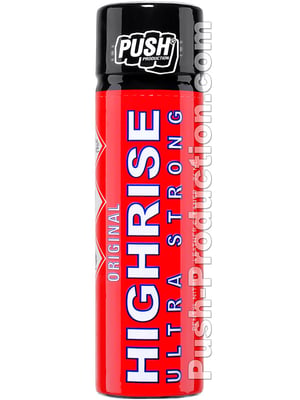 Content: 24 ml
Pentyl Nitrite - CAS 463-04-7

The Original Highrise Ultra Strong is back, with a brand-new formula, a re-worked better bottle and security cap to get the best of your favorite poppers!

Our exclusive Highrise Ultra Strong is made with super potent original Pentyl Nitrite. You will recognize its eye-catching red bottle instantly and experience incredible sensations as soon as you open its cap and let its powerful aroma fill the room. The effects start quickly and rise super fast so you can enjoy the best sensations during your session!

The long bottle is very practical and fits perfectly well in any pocket or inside your jock when you want to be always ready for action.

Our long-time best-selling poppers is back with a better Highrise formula, this Ultra Strong recipe has the original Pentyl Nitrite that you all love and crave! Get your Highrise Ultra Strong poppers today in our shop!