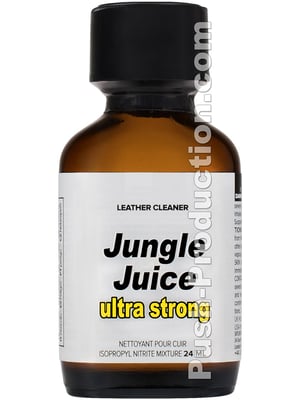 Content: 24 ml
Isopropyl nitrite - CAS 541-42-4

Jungle Juice Ultra Strong is just the thing for you if you're looking for a poppers that will take you up into orgasmic spheres with its extra powerful effect.

In a unique process, the particularly fast-acting isopropyl nitrite is distilled and thanks to the brand new airtight safety cap, nothing of the hot formula is lost during transport or storage. To open the cap, press it down and turn it counterclockwise at the same time. Once opened, you'll turn into a wild animal in no time and will be ready even for the biggest toys. Your sphincter muscle relaxes like never before, headaches are a thing of the past and your sex will be much hotter than ever.

Get ready for longer, more excessive adventures as all your senses are sharpened and you experience more intense orgasms.