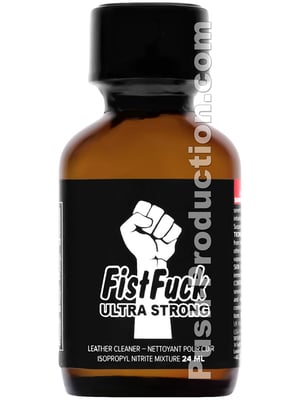 Content: 24 ml
Isopropyl nitrite - CAS 541-42-4

This slick-looking bottle of Fist Fuck Ultra Strong is the newest design by PWD Factory, with a slimmer bottle and a more pocket size for when you're on the go!

The Fist Fuck Ultra Strong puts you into a deep state of grandiose relaxation necessary if you want to enjoy even more your partner's fist or the bigger-sized toys inside of you, as the name of the poppers suggest.

Get ready for breathtaking experiences with the help of this poppers, especially recommended for fisting aficionados, as they help relax and lessens the pain due to anal sex.

The big square bottle of Fist Fuck Ultra Strong is finally available for all users, even those using normal-sized toys. The fresh scent will make anybody horny, so order your fresh bottle of poppers today!

Don't forget to store your poppers in the fridge between uses to keep it as fresh and potent as possible!