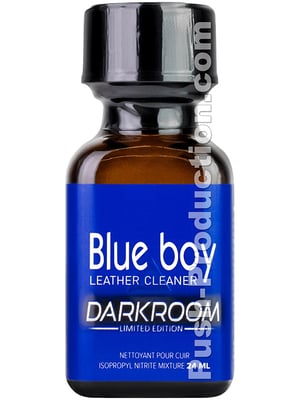 Content: 24 ml
Isopropyl Nitrite - CAS 541-42-4
Isopropanol - CAS 67-63-0

Victim of its own success, it was sold out incredibly fast but Blue Boy Darkroom poppers is back in a classic bottle! It's THE most incredible aroma for all your darkroom parties, when you want to let loose and get rid of your inhibitions for some incredible experiences.

After the success of the aluminium bottle, try out this incredible poppers with the same recipe and effects, for more lust, desire and sexual appetite. The super strong isopropyl nitrite is one of the best to date, relaxing immediately your muscles and making you ready for your partner or your toys.

Poppers are best stored in cool, dark and dry places like the fridge to stay fresh longer. Get to the top of your game today thanks to the brand new poppers, exclusively sold here in your poppers shop.