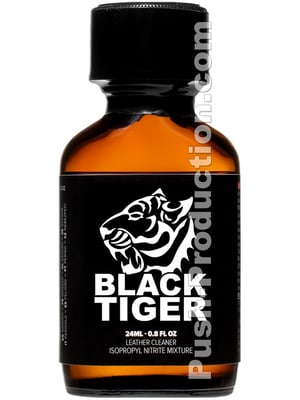 Content: 24 ml
Isopropyl Nitrite - CAS 541-42-4
Isopropanol - CAS 67-63-0
Unleash the tiger in you with the new Black Tiger poppers and its super strong aroma that will get you all wild and savage in bed.
This super strong poppers will give you the strength of the tiger thanks to a particularly strong formula made with isopropyl nitrite. The potent recipe of the Black Tiger acts instantly and turns you loose for maximum arousal and sexual gratification.
The freshest, purest and strongest ingredients are gathered in this poppers so you can enjoy taboo-free sessions and push yourself towards sexual nirvana with your partner or alone during your popperbate session.
As soon as you're in the mood, open the bottle and let its erotic scent fill the room, you'll be ready for a really wild session!
Try Black Tiger poppers, discover your animalistic side and get ready for a new you, a more sexual, savage and bestial than ever before.
Product details:
✓ Brand-new poppers
✓ Unleash the beast!
✓ Fresh, strong Isopropyl formula
✓ Practical large oval bottle for your pocket
✓ Maximum arousal
✓ Instant sexuel gratification
✓ Incredible sensations