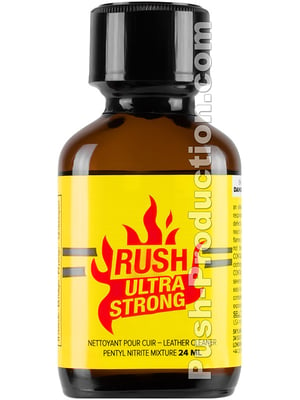 Content: 24 ml
Pentyl Nitrite - CAS 463-04-7

You already are an experienced poppers enthusiast and want to try something stronger? Then Original Rush Ultra Strong is just the thing for you.

With its three times more intense nitrite formula, this incomparable aroma provides an even faster effect that relaxes you & your anus and also lets you perform significantly longer. Even large objects will give you great pleasure and drive your stimulation to the top. You'll experience your orgasms even deeper within you and you are going to have a hard time controlling your excitement.

As of now you get this 24ml bottle with the new 100% tight safety cap, making a vaporization or leakage of your aroma virtually impossible. To release the cap, you have to press it down and only then can it be unscrewed. This way your poppers stays inside the bottle until you decide to release it.

Rush Ultra Strong will definitely impress you and be a valuable part of your evergrowing poppers collection.