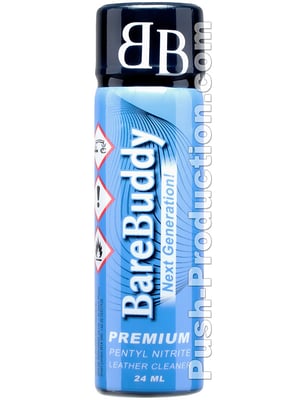 Content: 24 ml
Pentyl Nitrite - CAS 463-04-7

BareBuddy is our brand-new tall bottle containing our premium pentyl nitrite formula, the promise of great sessions and sexy times.

You own the dildo, now get to know the incredible poppers associated! Our very own Kriss Hammer's popularity is improving and with this, we need to enlarge your circle of friends and improve your sensations!

This Next Generation! formula has been stabilized with more care and knowledge than before, as well as gone through several distillation processes to keep the purest and most potent pentyl nitrite available on the market! Pentyl poppers are famous for the incredible sessions that they help create, so get yours today!

The tall bottle has now a secure cap and even more space for the aroma inside to build up and develop so you will experience the best this poppers has to offer as soon as you open the bottle!

Important: this type of bottle does contain 24 ml of liquid, but it is not filled to the brim so that the aroma can develop for best effects.