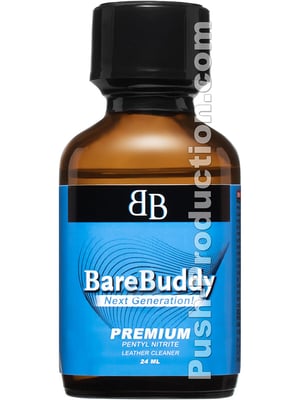 Content: 24 ml
Pentyl Nitrite - CAS 463-04-7
Isopentanol - CAS 123-51-3
This premium new bottle from BareBuddy poppers is one of incredible strength to make you experience exciting sessions in bed whether you're on your own or with your partner. Poppers are particularly popular because of their relaxing effects, meaning you will feel nicer sensations in bed.
The super strong poppers is made to act instantly and for a long time as soon as you open the bottle. Get ready and turn your bedroom into a real fuckpad, whether you're popperbating or experimenting with new toys, you'll love every second of it!
This Next Generation! formula has been stabilized with more care and knowledge than before, as well as gone through several distillation processes to keep the purest and most potent pentyl nitrite available on the market!
With its practical slim oval bottle, it fits perfectly in your pocket so you can carry it at all times with you when you go out. This poppers is compatible with the small Galaxy Booster for even stronger sensations.
Product details:
✓ Premium poppers formula
✓ Perfect mix between pentyl and isopentanol
✓ Stabilised to last longer
✓ Secure cap
✓ Stays fresh and potent
✓ Incredible sensations
✓ Large 24 ml format
✓ Practical oval bottle