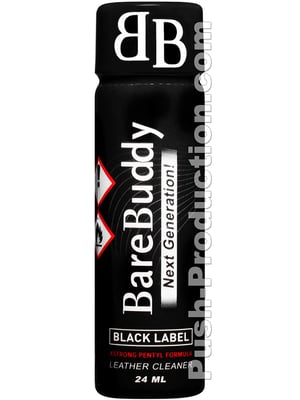 Content: 24 ml
Pentyl Nitrite - CAS 463-04-7
Pentanol - CAS 71-41-0
Try the new bottle of the tall BareBuddy Black Label Next Generation with a fresh and potent nitrite formula that will unleash the beast in bed!
This new poppers is the Black Label, a stronger and more potent version of our famous BareBuddy, the next generation poppers that went through several processes of distillation to get only the purest nitrite possible.
Open the bottle and let its erotic scent fill up the room, experience new poppers sensations and get ready for Bondage, BDSM or during your cruising session in the club.
Its practical bottle fits perfectly in your pocket and has a large opening to get the best out of your poppers!

Important: this type of bottle does contain 24 ml of liquid, but it is not filled to the brim so that the aroma can develop for best effects.
Product details:
✓ Premium poppers formula
✓ Perfect mix between pentyl and pentanol
✓ Stabilised to last longer
✓ Secure cap
✓ Stays fresh and potent
✓ Incredible sensations
✓ Tall bottle format 24 ml
✓ Practical tall bottle