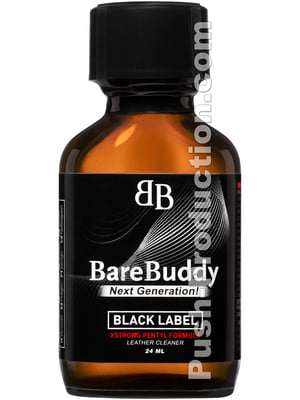 Content: 24 ml
Pentyl Nitrite - CAS 463-04-7
Pentanol - CAS 71-41-0
BareBuddy is back in black, baby! Get the newest and freshest poppers in our assortment: the BareBuddy Black Label, a premium pentyl poppers for some of the strongest effects available on the market!
This super strong poppers will unleash the beast in the bedroom, so just lie down, open the bottle and let its erotic scent unhinge you, making you want to experiment with bigger toys and accessories.
Welcome the next generation of poppers with this Xstrong formula, a pentyl nitrite mixture that goes through several distillation and stabilization processes so that you get the best and freshest poppers delivered directly at your door! On top of that, the secure cap prevents liquid from leaking to avoid unnecessary messes.
The practical flat and oval format fits perfectly in your pocket when you want to enjoy poppers while being out at the club or a party. This poppers is compatible with the small Galaxy Booster for even stronger sensations.
Product details:
✓ Premium poppers formula
✓ Perfect mix between pentyl and pentanol
✓ Stabilised to last longer
✓ Secure cap
✓ Stays fresh and potent
✓ Incredible sensations
✓ Large 24 ml format
✓ Practical oval bottle