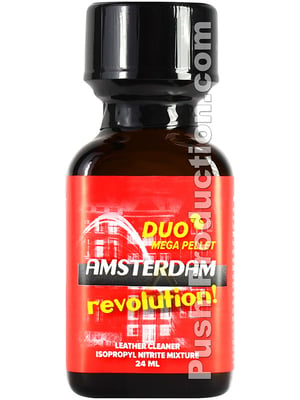 Content: 24 ml
Isopropyl nitrite - CAS 541-42-4
Isopropanol - CAS 67-63-0

The Amsterdam Revolution is a powerful poppers that will transport your senses to a world of fun and excitement. This poppers bottle is perfect for party animals and anyone looking for an extraordinary experience.

The effect of poppers is known to cause a quick relaxation and an increase in sexual sensitivity. However, the Amsterdam Revolution goes a step further and offers unique effects that will take your senses to a new level.

This particular formula contains a blend of isopropyl nitrites that have a powerful and long-lasting effect on your body.

Buy your bottle of Amsterdam Revolution Poppers today and experience a revolution in your sex life with incredible arousal!