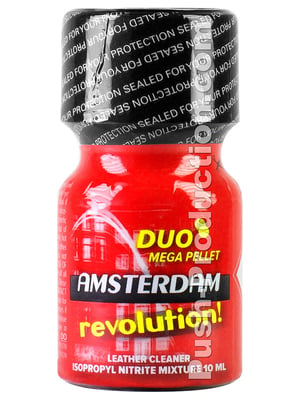 Content: 10 ml
Isopropyl nitrite - CAS 541-42-4
Isopropanol - CAS 67-63-0

Amsterdam Revolution Poppers are an exciting choice for those looking for a new experience. These small bottles contain a unique blend of isopropyl nitrite and other ingredients that create a strong and horny experience.

These poppers were manufactured by Push Production, a renowned company in the world of aromas. We are known for our high quality products and careful selection of ingredients. The result is a poppers that works fast and creates an intense feeling of relaxation and euphoria.

Amsterdam Revolution Small Poppers come in small, handy bottles that are easy to carry around. You can take them anywhere and enjoy them anytime. These poppers are ideal for a night out with friends or for an intimate experience for two. They let you relax and dissolve your inhibitions. The result is an uninhibited and pleasurable experience that you won't soon forget.

Amsterdam Revolution Poppers are also safe and easy to use. At Push Production, we use only the highest quality ingredients and make sure that every product is thoroughly tested before it hits the market. This way you can be sure that you are getting a product of the highest quality.