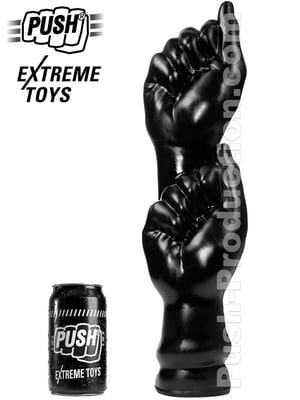 Two fists are better than one thanks to the brand-new Large version of the Double Fist by Push Extreme, a wonderful sex-toy made for fisting lovers.
The exceptional XXL size and design of the Double Fist make it the perfect accessory for really extreme anal stretching sessions. This is one of the biggest toys from the Push Extreme collection and we're proud to finally have it available for you!
Go down the first thumb and work you way down the fingers, palm and wrists and start it again with the second hand if you manage! The very distinctive texture and exciting design make it an incredibly stimulating toy that anal experts should try once in their lives!
Push Extreme Series is a collection of toys made with 100% safe and body-friendly PVC and compatible with all lubricants, be it water based or silicone based, as well as the gels and creams specially created for fisting. Be sure to use A LOT of it during your session! All Push Extreme Dildos have been produced in accordance with the EU directive 2005/84/CE concerning phthalates.
Note: the illustrated can is only used as a size reference and is NOT included in the delivery!
Product details:
✓ Incredibly unique design
✓ For extreme stretchers
✓ Easy insertions
✓ Breathtaking new sensations
✓ Made in the EU
✓ Phthalate free, body friendly PVC
Total length: approx. 40.5 cm
Insertable length: approx. 38 cm
Diameter: approx. 5.9 - 10.5 cm
Weight: approx. 1.76 kg
Material: phthalate free and body friendly PVC
Color: black
Compatible with: all lubes, water or silicone based
Care: clean with warm water and soap or sextoy cleaner