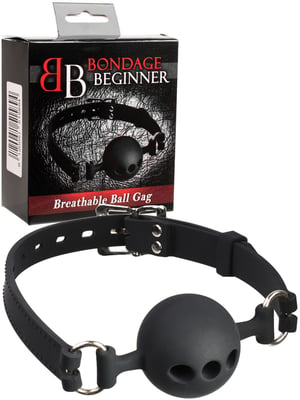 With the Breathable Ball Gag from Bondage Beginner, you will be able to fit its 4.4 cm ball in your mouth during exciting and naughty BDSM sessions to prevent you from speaking but allowing you to drool, breathe and moan.
This ball gag is entirely made with high-end rubber that has a soft velvet touch finish. The straps have two different textures, one completely smooth and the other one with small nubs that lightly prick and stimulate your skin. They are super easy to handle and comfy, so start by placing the gag in your mouth behind your front teeth and adjust the straps to the correct size around your head.
This high-quality rubber by Bondage Beginner is resistant, durable, non-porous, water resistant and allow you to breathe through the three holes.
Product details:
✓ Ideal for BDSM sessions
✓ Long-lasting Ball gag
✓ Soft velvet touch finish
✓ Adjustable size with buckle
✓ Replace loud noises with sexy moaning
✓ Spice up your sex life
✓ Non-toxic and odorless
✓ Easy to clean
Total length: approx. 55.5 cm
Length straps: approx. 16 & 30 cm
Diameter ball: approx. 4.4 cm
Material: high quality rubber, metal
Color: black