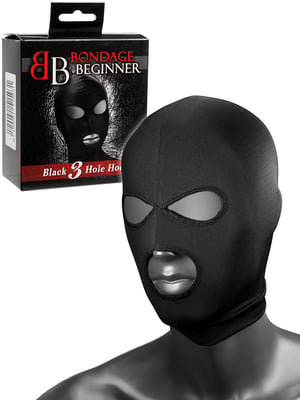 With the Black 3 Hole Hood by Bondage Beginner, you'll get to hide your face and get more invested in your BDSM or roleplay sessions! The stretchy fabric covers your whole head except your eyes and mouth.
Its stretchy and super lightweight fabric makes it very easy to put on, to breathe and to hear through. Particularly recommended when you're out at the club, the hood makes you unrecognizable so you can really let go and give it your all! Whether top or bottom, putting the hood on shows everyone you mean business!
The Black 3 Hole Hood is great for dispensing blowjobs without taboo and drilling everything in your area incognito!
Product details:
✓ Shiny black nylon
✓ Ultra lightweight and stretchy material
✓ Three holes for eyes and mouth
✓ Easy to breathe and hear through
✓ Perfect for roleplay or BDSM sessions
✓ Enjoy sex without inhibitions
Size: one size fits all
Material: nylon
Color: black