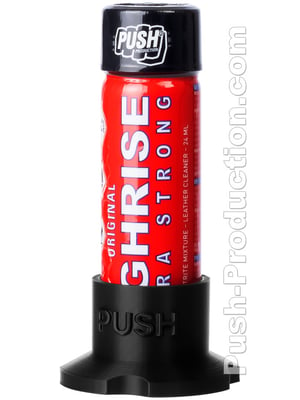 The FlipSTOP tall finally puts an end to poppers falling over and spilled liquid!
The FlipSTOP tall was specially developed to put an end to poppers bottles falling over and the associated hassle. It is the must-have for all those who use elongated tall poppers bottles. This innovative product makes using poppers easier and more convenient than ever before.
Because one of the biggest annoyances of using poppers is bottles that fall over. You open the bottle, want to enjoy the tantalizing scent, and it's already lying on its side - the precious aroma spilling all over the table or bed. The FlipSTOP tall ensures that your poppers bottles remain safe and stable, whether you place them on the table, nightstand or floor.
Handling poppers is made much easier thanks to the FlipSTOP tall. You simply have to insert your elongated poppers bottles into the designated opening of the FlipSTOP and they will stay upright. No more fumbling around, no more risky balancing - everything is stable and safe. The FlipSTOP tall is designed to fit all standard elongated tall poppers bottles. No matter what brand you prefer or what scent you want to enjoy, this FlipSTOP is the perfect addition to your collection. You no longer have to worry about whether it fits - it does! No more poppers falling over, no more spilling your precious liquid, no more dirtying your bed - the FlipSTOP tall is the solution you've been waiting for.
The poppers pictured is not included.