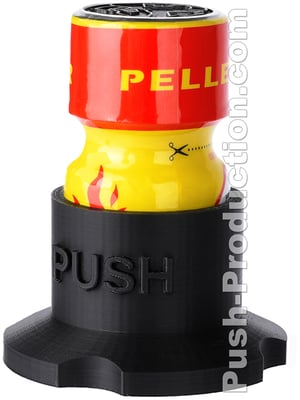 Stability for your poppers: the Poppers FlipSTOP small is here!

In a world that is constantly evolving, innovation is the key to a better everyday life. Today we present you our latest product that will revolutionize your small 10ml poppers bottles - the Poppers FlipSTOP. If you're tired of your poppers bottles constantly falling over and spilling, the Poppers FlipSTOP is the solution you've been waiting for.

You may know the scenario: you open your poppers bottle to release the scent you want, and before you know it, the bottle has tipped over and the precious contents spill onto your table or floor. Not only is this annoying, but it's also a waste of valuable product. This everyday problem is now a thing of the past, thanks to the Popper FlipSTOP.

This product is specially designed to give a firm stand to small 10ml poppers bottles. All you have to do is insert your poppers bottle into the designated opening and it will sit securely and stably. The FlipSTOP ensures that your poppers are always ready for use. It is designed to be compatible with all popular 10ml poppers bottles. No matter what brand or scent - the FlipSTOP fits perfectly.

The Poppers FlipSTOP is the result of innovative technology with thoughtful design. No more falling poppers bottles, no more spilled scents - with the FlipSTOP everything stays in place. Increase the efficiency of your poppers use by relying on the product that stands for stability and ease of use. Experience the difference the Poppers FlipSTOP makes in your life and discover a new era of stability for your small poppers bottles.

The Poppers on the picture is not included.