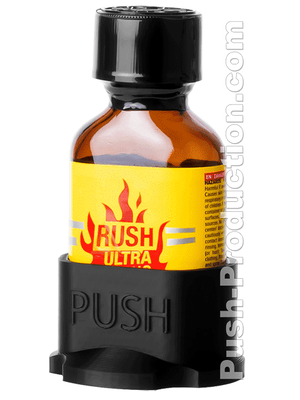 The FlipSTOP big provides stability for all your big poppers bottles!
The FlipSTOP big with its 2-in-1 design puts an end to poppers bottles falling over and the associated hassle. It is an absolute must-have for all poppers lovers who use large poppers bottles. With this innovative product, the use of poppers is not only easier, but also cleaner and more pleasant.
Who doesn't know the problem with the bottles falling over. You open the bottle, want to enjoy the seductive scent and there it is, lying on its side - the precious contents spilling on the floor or bed. The FlipSTOP big ensures that your poppers bottles stand safely and stably, whether you place them on the table, the nightstand or on the floor. Finally, you can enjoy your poppers without worrying about spills.
The FlipSTOP big is designed to fit all standard large poppers bottles, whether they are square or oval shaped. Regardless of your personal preferences for poppers brands or scents, this FlipSTOP is the ideal addition to your collection. The FlipSTOP big's ultimate innovative 2-in-1 design is a perfect fit.
No more poppers falling over, no more spilling the precious liquid, no more messing up your bedroom - the FlipSTOP big is the solution you've been waiting for. Get this must-have for your big poppers bottles today and experience how easy and convenient poppers can be to use.
The poppers pictured are not included.