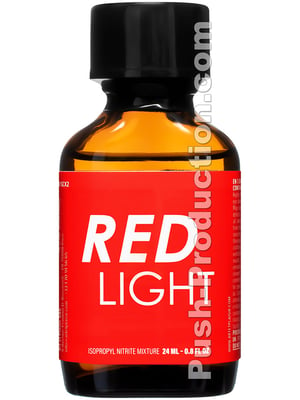 Content: 24 ml
Isopropyl Nitrite - CAS 541-42-4
Isopropanol - CAS 67-63-0
Get close and cosy with the new Redlight Poppers, a fantastic new bottle that is sure to get you very excited for what is to follow: all your fantasies will become true, all your taboos and inhibitions will be gone, and you will remember and cherish these naughty moments forever! The big bottle is perfect for parties with its slim and oval design, all nice and snug in your pocket and always ready for action.
Made with a super strong isopropyl nitrite mixture, the formula is particularly potent and will have long-lasting effects. The bright red label and the name instantly bring you erotic thoughts and naughty sensations for sexy sessions in bed.
Open the bottle and you'll be way more excited and relaxed. Poppers are famous for their relaxing effects but if you're in the mood for some action, they have a particularly strong exciting effect and they make orgasms better and more explosive!
Dive deep in the Redlight district with these wonderful poppers and get ready to become a lustful beast in bed or in the darkroom!
Product details:
✓ All-new and fresh bottle
✓ Very strong poppers
✓ Practical oval format
✓ 24 ml of pure bliss
✓ Pure isopropyl nitrite mixture
✓ Exciting and satisfying effects
✓ Practical secure cap
✓ Reduces leaks and evaporation