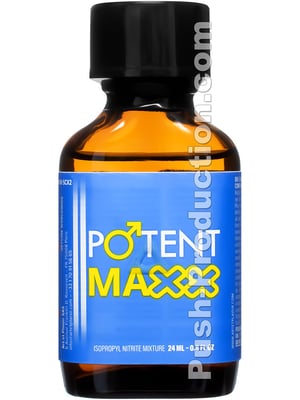 Content: 24 ml
Isopropyl Nitrite - CAS 541-42-4
Isopropanol - CAS 67-63-0
Potent Maxx is the latest formulation of the best-selling propyl nitrite formula famous for its extra-strong effects and highly satisfying effects when you're in a naughty mood! Get ready for potent sensations and relaxations as you try the newest and freshest formula on the European market!
Poppers are famous for the incredible potency on your sex life, getting you to relax more and enjoy better anal sensations. They're particularly effective to turn you into a sex-crazed slut if you're a bottom, so you can take all the biggest, most extreme sex-toys like a champ!
Get ready for very hot nights whether solo or with a partner and experience orgasmic popperbate sessions: open a bottle of Potent Maxx poppers, turn off the lights and the temperature up, lube up your favorite dildo and cockring and watch your favorite poppers master. When you're close to coming, the incredible aroma of the Potent Maxx will help transform a boring orgasm into something explosive that you'll remember for ever!
Product details:
✓ All-new and fresh bottle
✓ Very strong poppers
✓ Practical oval format
✓ 24 ml of pure bliss
✓ Pure isopropyl nitrite formula
✓ Exciting and satisfying effects
✓ Practical secure cap
✓ Prevents leaks and evaporation